HEIDI'S PICK SIX
Roger Spires
1. Which of your characters is your favorite?
There were many wonderful teachers that I wrote about but did not name in my book. I'll just pick one, Alan, an award winning inner-city teacher in a large city. Alan used hip-hop to connect to the classics. He had these high school students willingly remove their sweatshirt hoods to debate, write persuasive essays and make oral presentations. This is one of my favorites because he was successful with students that most people write off as a lost cause.
2. Tell me about your travels.
a. Every city I get to visit I say, "Oh, I could live here." However, I enjoy foreign travel most. A few years ago I enjoyed a ten day trip with World Neighbors in Oaxaca, Mexico. The city and the surrounding villages and countryside were a delight. I enjoyed this trip because I experienced the culture and day-to-day living of the average people and also visited some ancient Zapotec ruins.

b. Teaching ESL in Changchun University of Science and Technology for six months was a great learning experience. Traveling throughout China with one of my students increased the value of this trip. Now one of these students is an Associate Professor at the University of Southern California.
3. Coffee, tea, or milk?
I like coffee with a danish...one of my bad habits. I drink tea when I'm trying to be good.
4. What else can you do besides write?
a. Reading is a favorite pastime. For entertainment I read books that are thrillers. Stuart Woods, James Patterson, Vince Flynn and Lee Child are a few.

b. Trying to be artistic with my digital camera is wonderful therapy.

c. Walking nature trails gives me opportunities to relax and practice my photography.
5. Who are you reading right now?
The Mozart Conspiracy by Scott Mariani
6. Pop culture or academia?
7. What is the toughest scene you ever wrote?
8. Where do you find your inspirations to write?
My inspiration comes from my desire to share the joy of helping others learn, experience success, and have options when opportunities come their way. I want them to have goals but mostly I want them to be ready for opportunities.
9. Food you could eat everyday.
Pizza, but I try to limit it to two or three times a month.
10. Are you into sports or other physical activities?
Last summer I learned to sail and this winter ice sailing was something new for me. However, a long time activity is hiking in metro, state and national parks.
11. What kind of music speaks to you?
I enjoy almost any country and opera music. I do not understand the words for an Italian opera but these songs seem to touch my soul.
12. Do you outline your stories or do they just take you along for the ride?
I have a habit of letting my stories or ideas just flow onto the paper. I have discovered that for me, it is the way I enjoy writing. However, in the long run, I have a much better product if I force myself to make an outline.
13. Celebrity crush.
Most of my life I have been head-over-heels in love with Sophia Loren.
14. Who are the biggest influences on your work?
Teachers from my elementary years where very influential. They had a love for teaching and their students. Teaching did not seem to be a job but an activity they enjoy doing.
15. Do you still watch cartoons?
No, I find cartoons boring.
Roger Spires
began teaching in a rural school in southern Ohio. Later he taught sixth grade and remedial reading in several schools in Columbus, Ohio. From there he served as K-12 curriculum director, adjunct instructor and GED instructor. He considers his ESL teaching experience in Changchun, China as one of the highlights of his career. He hopes to do town hall style meetings to promote school improvement.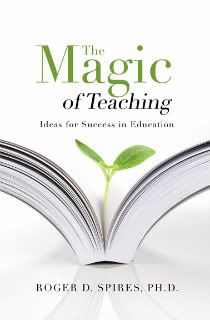 The Magic of Teaching is a glimpse into the tough world of a teacher and that of classroom teaching. Teaching has always been challenging. The Magic of teaching shows how teachers are meeting these challenges by giving students respect and offering them hope, joy and most important, excitement of mastering the skills they need. Even disenfranchised students can be rescued when they discover the joy of academic success.